Privacy Policy Guarantee Effective June 9, 2018
My privacy policy is very simple: I honor your privacy! If you'd like to know the details, read on.
I, along with my publisher, Spring Water Publishing, believe privacy is important and have a very strict privacy policy. This policy applies to this web site, Trainapup.com, Trainapup.net, and all subsidiaries.
If you have any questions about this privacy policy, feel free to contact me.
I can be reached via e-mail at


Or you can reach me by telephone at (205) 409-2669. (Because we're a very small "mom and pop" company, email is the best way to reach us!)
Information I Collect From You, and How I Use It
Like most websites, I usually send cookies to your browser when you visit my site. A cookie is simply a small file that identifies your browser. I use the cookies to track overall trends so that I can improve the user experience of customers who browse my site. Cookies are used to record session information, such as items that consumers add to their shopping cart, record user-specific information on what pages users access or visit. The information I collect is used for internal review to improve the content of my website, and is then discarded.
Cookies are entirely optional, and if you disable cookies on your Internet browser, you should still be able to browse our site with no problem.
Purchasing Privately
When you make your purchase, you get taken to the website of Clickbank, a vendor which processes almost all of my payments. You may read Clickbank's privacy policy here. (Link opens in a new window.)
I do not store your credit card information. All transactions you place on my shopping cart are handled by Clickbank.
Sites Linking Here
I have a few affiliates through Clickbank's system who send users to my website. My affiliates may have different privacy policies than I do. However, with respect to this site, my privacy policy is in effect no matter where you browsed in from.
Protecting Your Email Address
In certain instances (such as when you sign up for my email newsletter) I collect information that can be personally identifying. For the most part, this is limited to your first name and email address that you enter into our subscription form to receive our newsletters. If you do not want to receive email from me in the future, please let me know by emailing me or simply clicking the "unsubscribe" link in the newsletter, or by writing us at the postal address listed above.
Because my newsletter requires verified opt-in confirmation (to prevent spam problems), Aweber.com, the autoresponder I use, keeps track of the IP address you use to confirm you wish to sign up for the newsletter. You can read Aweber's privacy policy at http://www.aweber.com/privacy-policy.htm. (Link opens a new window.)
My Strict Anti-Spam Policy
In plain English, I hate spam as much as you do.
If you do not want to receive email from me in the future, please let me know by sending me email at the above address or clicking the unsubscribe link in the email newsletter. (Every email newsletter you receive from me will have clear information on how you can permanently remove yourself from my mailing list.)
Your Other Information
If you supply me with your postal address you will only receive the information for which you provided me your address. (I do not currently ask for your postal address, however.)
Persons who supply me with their telephone number will only receive telephone contact from me with information regarding orders they have placed online. (I do not currently ask for your telephone number, however.)
To summarize, the information I collect is used to improve the content of my website and to send customers my newsletter and product updates.
How I Keep Your Information Secure
I employ strong measures to protect against the theft, misuse or abuse of the information I collect. My data I keep locally is offline, password-protected and encrypted. I have appropriate security measures in place in my physical facility to protect against the loss, misuse or alteration of information that I have collected from you at my site.
The customer data Clickbank, my payment processor, collects is protected by high security standards which you can read about here, but includes powerful encryption, secure authentication, and aggressive fraud analysis.
I Will Never Disclose Your Information
I will never sell, share, rent, give or in any way disclose to a third party any of the information I might have about you. The only exception might be if you asked me to, or if there were some kind of court order compelling me to.
Changes to this Privacy Guarantee
From time to time, I may change this privacy guarantee. If that happens, I will post the policy changes to my site to notify you of these changes and provide you with the ability to opt out of these new uses. If you are concerned about how your information is used, you should check back at this page periodically.
How You Can Find Out What Information I Have Collected About You
Upon request I provide site visitors with access to transaction information (e.g., dates on which customers made purchases, amounts and types of purchases) that I maintain about them, any contact information (e.g., name, address, phone number) that I maintain about them, and a description of information that I maintain about them.
Consumers can access this information by emailing me at the above address or writing to me at the above address. Consumers can have this information corrected by sending me email at the above address or writing to me at the above address.
I Welcome Your Comments!
If you feel that this site is not following its stated information policy, you may contact me at the above email address, the DMA's Committee on Ethical Business Practices at mgoldberger@the-dma.org, state or local chapters of the Better Business Bureau, state or local consumer protection office, the Federal Trade Commission by phone at 202.FTC-HELP (202.382.4357) or electronically at http://www.ftc.gov/ftc/complaint.htm. (Link opens a new window.)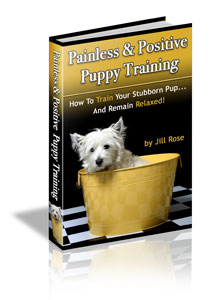 Click Here To Secure Your Copy of 'Painless & Positive Puppy Training!

© Copyright All Rights Reserved.

Positive & Painless Puppy Training Guide | Contact Us | Webmaster Affiliate Program